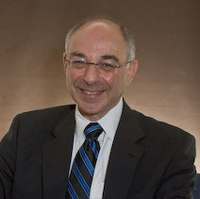 Kenneth N. Margolin, Esq.
Ken Margolin has practiced law in Massachusetts since 1973. Since the beginning of his career in legal services, he has sought justice for the common person wronged by government, business, or insurance interests. Now Ken will be using his talents to represent college students charged with serious breaches of their school's code of conduct.
Early in his career in an office providing legal services to poor and low-income individuals, Attorney Margolin represented people with a wide range of mental and physical disabilities. During that same period, he won the first case in Massachusetts establishing that non-profit corporations had the right to open group homes for adults with developmental disabilities in residential neighborhoods.
After leaving legal services for private practice, Attorney Margolin became a leader representing Massachusetts organizations operating programs for people with disabilities. His work on behalf of non-profit corporations have included ground-breaking court cases, as well as trouble-shooting, advice and counsel and representation before state and local administrative bodies.
Attorney Margolin also began representing people who had been injured because of medication and anesthesia errors and other medical malpractice, injured by callous or illegal corporate practices and by other forms of individual or corporate negligence. His efforts on behalf of injured plaintiffs include multiple million dollar plus recoveries in medical malpractice and general negligence cases. Attorney Margolin has represented personal injury clients in Massachusetts, Rhode Island, New Hampshire, Connecticut, and Kansas.
His successful results include one of the largest verdicts in a medication overdose case in Massachusetts history.
Attorney Margolin has taught at the graduate level, has been extensively published on various legal topics, and is an accomplished public speaker. He will now use his skills and experience to help colleges students facing serious charges of violations of their school codes of conduct. College disciplinary board hearings are often stacked against the accused, held in an atmosphere of politically correct hysteria, and threaten the student's rights to fundamental fairness. Attorney Margolin pledges to do all that he can to obtain a fair hearing and just result for his college student clients.
Attorney Margolin prides himself on explaining the law clearly and simply to his clients, and involving them every step of the way - clients are never in the dark about their case. Obtaining justice for his clients, has been Ken Margolin's life's work.
Education
J.D., Boston College Law School, 1973
B.A., Drew University, 1970
Jurisdictions Admitted to Practice Massachusetts, 1973
U.S. District Court, District of Massachusetts, 1974
Federal District Court, Hartford, CT (Pro Hac Vice)
Rhode Island Superior Court (Pro Hac Vice)
Vermont Supreme Court (Pro Hac Vice)

Presentations & Speeches
Attorney Margolin has given numerous workshops, lectures, and presentations on a wide variety of topics to both attorney and non-attorney audiences.
Publications
Child of Sderot, Pif Magazine, 2015


On Ayaan Hirsi Ali and college disciplinary codes, Newton Tab 2014.


Sticks and Stones can break your bones, but words can get you expelled, Newton Tab, 2010.


A Siting Battle Case Study for Non-Profit Organization Board Members: Lessons from the Field, Word Association Publishers, Tarentum, PA 2009.


Don't Lose Your Massachusetts Personal Injury Case Before You Begin, Word Association Publishers, Tarentum, PA 2008.


More than 150 online articles, on personal injury and justice system-related topics, on http://boston.injuryboard.com, 2006-2007.


"Did You Know Young Byron?" Sport Literate Magazine, ISSN 1080-3247, Chicago, IL 60657-7166, Volume 4, Issue 2, 2002: journalistic essay about a talented Boston boxer of the late 1930s and early 1940s, whose championship ambitions were derailed by the racial politics of local boxing in that era.


"The Secret Files of Doctors," June 18, 2001, Newton Tab editorial.


"How Shall Facilitated Communication be Judged? Facilitated Communication and the Legal System," chapter in the book, Shane, Howard C., Editor, Facilitated Communication: The Clinical and Social Phenomenon, Singular Publishing Group, Inc., San Diego, California, 1994.


Developing Community Residential Programs: A Reference Manual for Town Counsel and City Solicitors, and its companion manual for building inspectors and other local officials, published under a contract with the Massachusetts Executive Office of Communities & Development, and distributed to each building inspector, zoning board member, selectperson, and town counsel in the Commonwealth of Massachusetts. October, 1991.


"Legal Risks of a Privacy Policy by Residential Institutions for Handicapped Adolescents," Journal of Rehabilitation, the Journal of the National Rehabilitation Association, April/May/June, 1988.


"Neighborly Acceptance," December 4, 1987, Boston Globe editorial.


"Juries' Rightful Power," December 22, 1985, Boston Globe editorial, reprinted in Trial, Journal of the American Association for Justice (formerly, the Association of Trial Lawyers of America), April, 1986.


"Human Services Professionals in the Courtroom," New England Journal of Human Services, Spring, 1983.


"The Clinical Team Report," Family Law Handbook, printed by the Mental Health Legal Advisors Committee, 1980.


"Human Services and the Law: Professions in Conflict," AMICUS, Journal of the National Center for Law and the Handicapped, March/April, 1979.